Robert Graham Buice (Bob) & Georgia Ann Lee
Married December 29,1881
Robert Graham born August 4, 1862 Died February 15, 1915
Georgia Ann Lee Born April 1,1862 Died March 16, 1896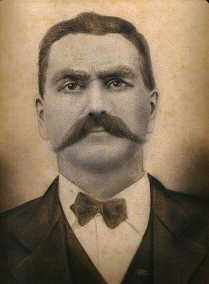 Picture below is Bob Buice with his second wife Minnie Ophelia Lee (cousin to Georgia, Bob's first wife)
Bob had 9 boys and 1 girl by his first wife, 9 boys and 1 girl by his second wife.
He said he wanted to be just as good to one wife as he was the other.

Here are all his children by his first and second marriage except for two babies who died at birth.