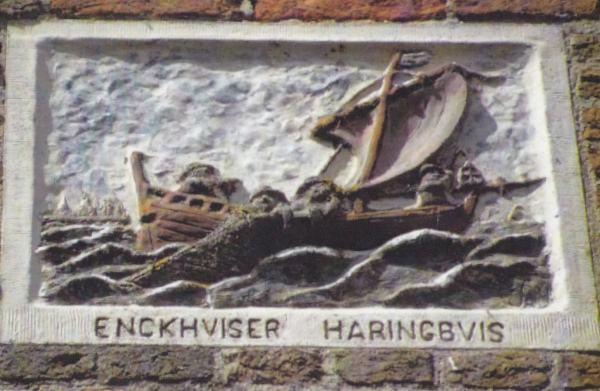 Dear family,
It is a pleasure that I have found the picture of the facade Stone ( approx 70 x 40 inches) in the old captains home in the old port of Enkhuijsen.
Frans Pieter Buis

A resounding "THANK YOU" to Jack Buice in Lake Jackson, TX for sharing this information with the Buices of Georgia. We would be remiss, however, in not giving credit where credit is due. Frans-Pieter Buis from The Netherlands submitted this information to Jack Buice. Frans-Pieter, please accept our sincere appreciation and gratitude for your hard work. You have a standing invitation to our Annual Buice Family Reunion! Hope to someday see you there!
Now, for history behind our COAT OF ARMS. . .
(Note from Carolyn: This has been typed exactly as written by Frans-Pieter Buis.)
25 October 1996
SUBJECT: GENEALOGY - BEUIJS / BUIJS / BUYS / BUIS / BUICE FAMILY
Dear Jack and Sarah,
Sorry for the delay but there were important reasons. First of all we studied your information and to our surprise the name of Hendrikje Jansz Damen did not appear in our family tree. So Jan Buys (Jan the Soldier) could not be a relative of ours. In our records his father, Cornelis Hendricxze Beuijs, married Helena Verburg. Their only child was a Hendrick Cornelisz Beuijs who died in the Hague and never went to America. End of story. Exit relationship with Jack Buice.
Last week we went back to Brielle to the county archives as well as to the "Provost" (City Archive) and guess what we found? Cornelis Heijndricxze Beuijs did indeed marry "Helena Verburg" on the 16th September 1631. What we did not know, but found after a few hours reading in the files, that exactly 3 years earlier he did marry Hendrikje Jansdr Damen (16/9/1628). She gave birth to Jan Cornelisz Buijs in August 1629 and she died (by that occasion?). In respect for his first wife he married with Helena at the same date, 16 September 1631. They took Jan as a stepson/half brother of my forefather, Hendrik Cornelisz Buijs. Jan grew up later by his uncle, Jan Jansz Damen. That is why Jan also carried the name, Jan "Damen", as his step family was then known. Very clear in those days, but difficult to track for us 350 years later. In America he probably used his official family name again in service of the government? (Oh, what a hobby, Geneaology)
OK, back to the family affairs and the pictures.
The COAT OF ARMS is our official family arms. It says "Hendrik B uijs (the stands for an "e"?the name was earlier written as Beuijs
[NOTE FROM CAROLYN: The noted here actually looks more like an "e" reversed. My computer language components would not support this character.])
O.b. means "died" in 1633. "1629" is the year that Hendrik was allowed by the states of Holland to add the color SILVER in his arms. In the picture from the original "Book of Dutch Nobility", the silver color disappeared. He chose to color the sky silver, but after 350 years, it was hardly visible. Silver was the color for the lower nobility. Gold was for Barons and Dukes. Purple was the privilege of Kings. He received this honor because he was a.o. (?) the third mayor of Brielle (and a good one) of the Beuijs family. In his period the existing townhall near the church was built. His father, Willem Cornelisz Beuijs (married to Fijtgen Maertens dr) was also a mayor. His grandfather was Cornelis Hendrics Beuijs.
We know for certain that they were a family of ship owners. The coat of arms shows that. A "buis" is a small sailing boat used mostly for herring fishing in the North Sea. It was used until the 19th century. (Compare lugger and schooner) They were good sailors who fought the Spanish and British fleets. Heijndric Willemsz's father made history by directing a part of the Dutch fleet under our famous admiral, Maarten Harpertsz Tromp, out of heavy weather near England and saved a number of his ships (another reason for the silver in the coat of arms). They were all commanders of warships when a war was on. No doubt that Jan Buys had this in his blood.
After his death in 1633 the "old" mayor, Henijndric Willemsz, was buried in the big Saint Catherine's Church of Brielle. The Polaroid photos shows the remains of his tomb.
(Note from Carolyn: We do not have the Polaroids.)
I say "remains" because in 1795 when the French patriots conquered The Netherlands, all tombs were heavily damaged. They said "for God all creatures are equal" so no names, no titles, no uniforms or distinguishing marks on the graves. So with chisels all reliefs were equalized. Only the deepest figurations remained. You see slight marks of a bonnet and a right hand leaning on a sword. Some marks on the right are not legible, but the name is clear: H. W. BUYS. (The name was presumably put in again later because of the use of "Y" instead of "ij" in BUYS, the equivalent which was invented later). So, there you are.
Surprisingly, he is not buried in the family grave in the same church that carried the names of his father, grandfather and his son. All locations are known in the archive of the church which you now have to re-visit.
Heijndric Willemsz' office (stadhuis/townhall?now a museum) is still to be seen in the city of Brielle. His homes are disappeared. We know pretty well where they have been standing but in the end of the 17th century most of the houses in that street broken down to make room for defensive buildings. The street still exists and is called Nobelstraat. The townhall is located in the Nobelstraat as well. He lived near his office. His home was called "the house with the waning moon(s)". In the Langstraat we found a facade with a stone showing 3 waning moons in gold on a red stone. The owner of the house told us that years ago all frontage stones were taken out of a general store and added to older homes in town to beautify the streets. Our stone? Heijndric Willemsz knows. The original house was build in 1565. The family sold it in 1655.
Did you know that all second names end up with (sz) for "son-of" and (dr) for daughter? So you always knew who the father was. The oldest one was named after his father's father and got his father's name added with (sz) or (xz). Willem Cornelisz(oon), Hendrixz(oon) and Hendrikje Janszd(ochte)r. (zoon = son and dochter = daughter)
Isn't it striking that the oldest Beuijs we know was named Cornelis Hendrics Beuijs and that the old neurologist that I do all this investigations with now still carries the name, Cornelis Hendrics Beuijs? We met occasionally and disovered that he was a cousin of my late father. They once met each other (in?igig)? When he was 10 and my dad 16 years old. We could tell you a lot more. Maybe another time "life" or by telephone. We will keep in touch anyway. We wish you much pleasure with this new information.
Your grand, grand / . . .12x. . ./ cousin, Frans-Pieter (x1) Buis
PS (x1), Very traditional: my father's name was Pieter; my grandfather's name was Frans.
HOME